Alerts & What's Trending
Produce
With persistent weather concerns and increased area transitions, lower overall yields are projected to have a negative impact on numerous markets over the coming few weeks. Supply from the desert producing zone are relatively consistent. Most commodities' current quality remains high. Farmers notice some cosmetic flaws in the form of irregular size, crop maturity, and leaf yellowing. This will most likely have an immediate impact on quality and supply. Also, the warmer temperatures will increase bug pressure.
Grains
Speculators' technical selling and a lack of fundamental trade pushed the soybean oil market lower until the end of the week, when it began to recover considerably. This also pushed the Canola and Palm oil prices lower; however, palm production is behind and palm exports are increasing. This market is likely to rebound.
Dairy
As Easter approaches, shell egg markets are beginning to fall significantly. Despite increased supply, the market for block and barrel cheese continues to grow. Butter markets are marginally lower due to a lack of supply. For the month of April, the prices of Cream and Culture will be slightly raised.
Beef
The market tone is becoming more familiar as the week goes. Prices are being mitigated by excess packaging, and demand is steady at best. Ribs are consistent, however availability varies by packer. Strips continue to trade steadily, with packers occasionally lowering pricing to mop up stray pockets. As purchasers continue to buy hand to mouth, chucks and rounds remain stable.
Pork
Butts have climbed somewhat for the coming week, as expected. Butts should get more expensive as demand grows. Ribs are generally steady, but retail interest is currently decreasing. Loins were also impacted, but they should heal quickly. Belly fat has also been declining in recent weeks and may continue to do so.
Poultry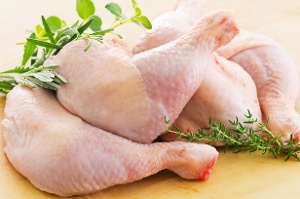 The demand for jumbo breasts has recently decreased. Tender demand is rapidly increasing. Whole birds and cut ups were fairly consistent, although supply is running low. This week, demand and supply for wings were balanced. Demand for dark meat remains high.
Seafood
On April 6th, the Lenten season will come to a close. In comparison to last year, shrimp, salmon, tilapia, pangasius, pasteurized crabmeat, mahi, tuna, calamari, warm water lobster tails, cod, and pollock stocks have all stabilized.