Produce
The avocado markets remain historically inflated. A disappointing production season in California and short supplies from Mexico are driving avocado prices. Last week the U.S. imported 17.3 million pounds less avocados from Mexico than the same week a year ago. Better imports from Peru are helping but the increase is only about 25% of the supply loss from Mexico. The short supplies and building demand for avocados in the U.S. are expected to support the avocado markets into August. The lettuce markets are elevated as well.
Grains
Corn and soybean crop ratings this week were disappointing. Just 57% of the corn and 53% of the soybeans were rated in either good or excellent condition by the USDA. These are the worst percentages for the category since 2012 and the fifth worst in the last three decades. Corn and soybean supplies are vulnerable, and prices are volatile.
Dairy
The cheese markets weakened modestly since last week. Per the USDA, cheese exports in May were up 10.7% year-over-year. But cheese prices have risen since then and are priced at a premium to the global markets. This is slowing cheese exports and may limit remaining seasonally price grains than usually occur into August. The butter markets also softened slightly this past week. Butter imports in May were up 42% from 2018 and exports were down 40% from last year but prices have remained firm. History says there is still upside potential for butter prices in the next few weeks.
Beef
Beef production eased during the Fourth of July week compared to the prior week and was smaller from the same holiday week a year ago. Anticipate beef production to run even or just slightly above year ago levels going forward as lighter carcass weights should temper output. The USDA boxed beef cutouts have begun to seasonally ease, especially for the Choice cutout which is breaking notably lower. The beef 50's dipped below $0.90/lb., but stellar ground beef demand is expected to persist. This should temper the expected seasonal weakness for the beef 50's and the grinds that typically occur in the late summer.
Pork
Heavier carcass weights and bigger hog inventories continue to boost overall pork production, with pork output up 7.3% year-over-year during the Fourth of July holiday week. The wholesale USDA pork cutout has been paying the price (going lower) for the larger production schedules, as it appears that packers are planning on moving pork to China by this time next year. While further price weakness across the carcass is still expected, exports have accelerated this summer, and is projected to bring modest upside potential to the various pork markets.
Poultry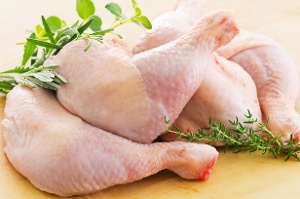 For the week ending June 28th, chicken slaughter held above the year prior, and with bird weights running above year ago, it resulted in ready-to-cook (RTC) chicken production up 3.6% from last year. Look for chicken production schedules to ease into mid-to-late summer amid dwindling margins. Leg quarter prices have fallen but remain well over a year ago, with aggressive exports happening which has supported prices. Additionally, the chicken wing markets continue to find support on active retail promotions, but higher prices are expected to curb interest deeper into the summer. Chicken breast meat prices could struggle due in part to larger production schedules.

Seafood
The salmon markets remain expensive despite strong imports. During May the U.S. imported 6.2% more shrimp than the previous year with Atlantic salmon filet imports up by 5.3%. Despite production challenges in Norway, imports from the country were only down slightly. Solid demand, however, may continue to underpin the salmon markets.
Oil
Nearby ultralow diesel fuel futures are higher than the last week but 10.4% lower than a year ago. The EIA's most recent national average retail diesel fuel price was $2.827/gal., which was 3.7% cheaper than last year. Due to a solid summer driving season, the downside risk for diesel fuel prices is likely nominal.