Produce
The avocado markets remain historically inflated.
Grains
Despite modestly tighter domestic wheat stocks, global wheat supplies are expected to remain robust.
Dairy
The cheese block market this week is the highest since February 2016. Cheese stocks on May 31st were up .1% from last year, but it was the first withdrawal for the month since 1995 and a record drawdown for any month.  History hints the downside risk for cheese prices is nominal in the coming weeks.  The spot butter market this week is the most expensive in 13 months.  May butter inventories were down .7% from the prior year.  Butter stocks from January through May grew by only the second smallest (for that time frame) since 2011.  Butter prices usually remain firm through August.  
Beef
Beef output last week eased modestly from the week prior and from last year, with lighter carcasses continuing to temper overall output. Beef production is expected to seasonally fade into the summer months responding to usual wholesale beef interest waning though late-August. Stellar ground beef features continue to support the grinds, with lighter carcasses further underpinning prices on the beef 50s. Seasonally, the grinds typically see an 18-22% decline from their May peak to the July low, but solid retail demand could support the beef trim and grind complex beyond the Fourth of July holiday this year.  
Pork
Pork production last week continued moving counter-seasonally higher, posting a new record for any week during the late spring. Heavier hog carcass weights are exacerbating the excessive production, leaving pork output up more than 16% over last year.  Some pork products are struggling to gain upside traction, with pork bellies hovering near the $1.00 mark, which could prove to be attractive longer-term buying opportunity. But in the near term, look for continued larger production schedules to limit the upside potential on pork prices.  
Poultry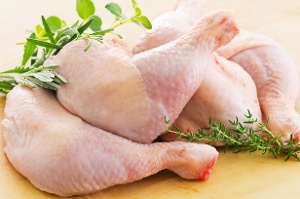 For the week ending June 15th, chicken slaughter jumped 4.8% over last year, with ready-to-cook (RTC) production up 4.8% (yoy) as well. The six-week total of RTC chicken production was up 2.7% year-over-year. Amid increasing output, the ArrowStream Chicken Index remains firm, exhibiting early seasonal strength ahead of Independence Day. Chicken tender prices continue to be choppy in the mid-$1.80s, while breast meat prices are declining. Seasonally, breast meat usually experiences early summer strength before declining thereafter.  Wing prices remain stubborn on robust demand.  But larger production schedules are likely to weigh on wing prices moving forward.  

Seafood
The shrimp markets continue to track well below year ago levels.  U.S. shrimp imports in April were solid, up 2.1% from the previous year.  However, the value of the U.S. dollar has softened in recent weeks in anticipation of the Federal Reserve cutting interest rates.  If the U.S. dollar continues to depreciate, it could temper imports and support shrimp prices. 
Oil
The EIA's most recent national average retail gasoline price was$2.741/gal., the cheapest in 13 weeks and 5.9 percent lower than a year ago.