Alerts & What's Trending
Produce
With Mother's Day two weeks away, combined with the lower yields caused by weather events, markets will likely remain higher for the next several weeks. Mother's Day typically increases demand by as much as 25% as one of the year's biggest holidays for foodservice. Due to past weather events, production remains limited in the Salinas Valley growing region. Growers see quality issues like yellowing, light fringe burn, light weights out of Salinas, and some sun-scald
Grains
On the back of negative harvest reports from South America and unfavorable US weather, soybean oil futures rose last week. As the week went on, it did trade lower as a result of trader selling. Canola was lower, but with some snow, rain, and worker strikes, it was predicted to go higher. With limited but improving stock, Palm was higher.
Dairy
The supply of shell eggs is abundant compared to the demand, which has been poor for four weeks. Block/Barrel market declines in cheese prices are still present. Markets for butter are steady. For the month of May, there will be slight decreases in the price of cream and culture.
Beef
Buyers still continue hand to mouth, while some sales at the front are formula-based. Packers continue to emphasize the increasing demand and the anticipated prolonged shortage of cattle supplies. Ranges for trading ribs and strips continue to be stable, and availability is still not a problem. The demand for briskets and tenderloins throughout Mother's Day and Memorial Day continues to be strong. Rounds and chucks keep coming in steadily.
Pork
Butts are in high demand both domestically and abroad, and their market share is continuing to grow. Although they were seasonal, spareribs were not anticipated to last. St. Louis ribs and back ribs rose as anticipated. Strong export demand for boneless loins is keeping this market afloat. In spite of an abundance of supplies, there is still a healthy market for bellies.
Poultry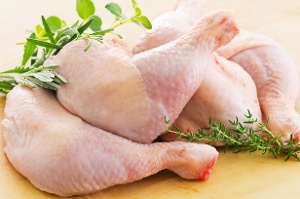 Breast meat is staying put. Tender demand is still rapidly increasing. Supply is becoming more scarce for whole birds and cut ups. There is less demand for wings. Demand for dark meat continues to be high.
Seafood
Up to the start of the new season in May, North Atlantic lobster tails and lobster meat will be available for allocation. The North Atlantic Scallop fishery for 2023–2024 got underway on April 1. In the first few weeks, U-12 and U-10 scallops made up more than 60% of all landings.