Alerts & What's Trending
Produce
As growing regions saw warmer temperatures, many volatile markets have continued to see a downward trend. We will likely see slightly cooler temperatures, but markets are expected to continue the downward trend.
Grains
Last week, the soybean oil market recovered as dealers added back some of the volume they had previously sold off. The energy market also strengthened. Due to a decrease in demand and great stock levels, Palm was up. Canola remained almost unchanged.
Dairy
Egg markets continue to increase as supply is extremely tight. Milk supply is increasing, and demand is slowing causing cheese and butter markets to decline 
Beef
The market is scarce because packers cut back on harvest last week and winter storms are sweeping the nation. Due to festive demand, ribs and tenderloins are still in high demand. Last-minute purchasers continue to fill in with this cut to meet the need for a middle meat choice as strip sales remain steady. The round and chuck are still trading mixed. The biggest gain from reduced harvest has been in grinds. 
Pork
Butts are still trending up thanks to retail advertising demand. Butts are trailing loins in order. Even though exports are declining, the price of ribs is still keeping reasonably steady, thus this market should remain stable. Given the short harvest week and the sideways trading in stomachs, the market may move upward. Trimmings are also decreasing.
Poultry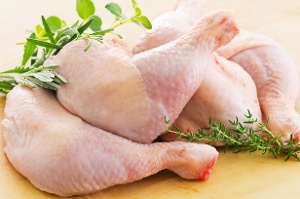 Over the weekend, two commercial egg layer farms were found to be HPAI-positive, adding another 2.5 million birds affected this fall. The farms were in South Dakota and Washington, respectively. HPAI is still having an impact on turkeys, with 9 million birds lost this year. Expect Turkey prices to continue high and for the selections to decrease. The season for wings has arrived, but there are still many options at reasonable costs. Product is easily accessible, and tender availability is rising. Seasonally low breast prices will persist through the end of the year, but estimates for slower production will result in a supply shortage. Thigh meat without a bone is widely accessible. Leg meat without bones is flattening. Both the price and supply of whole birds and cut-ups are generally stable.
Seafood
The season for Gulf oysters began on November 1. Multiple bays are closed in order to safeguard and rebuild oyster reefs. Introducing the Ecuadorian Portico Imperial Latin White Headless Shell-On shrimp. For more information, kindly contact your sales consultants. Hillman Half Shell Oysters are now offered from the La Porte, Texas, warehouse.