Alerts & What's Trending
Produce
We have continued to see national demand increase as the new school year begins resulting in slightly higher markets across many commodities. We should continue to see this trend over the next few weeks. Supplies continue to remain good across most commodities, but iceberg supplies remain light.
Grains
Weather has improved in the growing region for soybeans, so soybean oil futures fell last week; although, biofuel demand is high keeping volatility high. Canola is lower with pressure from lower soybean oil and European Canola. Palm also moved lower with pressure from soybean oil, but also due to increasing stocks.
Dairy
Shell Egg markets mostly steady, however some softness continues in California markets. Cheese markets rally this week but could stay firm for next week. Butter markets are steady. Cream and Culture pricing will be flat to slightly up depending on categories listed below.
Beef
Market activity is mixed, as reduced harvest, reduced demand, and higher cattle prices appear to be impacting market confidence. Middle meat is steady. Tenders and ribs have firmed. Interest is flat on loin cuts but may garner attention w/ the rib showing gains. End cuts continue to show a steady balance. Grinds continue to reflect mixed offerings and a steady tone.
Pork
Bellies continue to be the driver of gains, while the remaining primal's are seeing declines. Butts are continuing their race to the bottom, with loins following suit. Ribs continue to trend downwards and should continue on that trend until we get closer to Labor Day. Green hams continue to trend up with strong exports to Mexico.
Poultry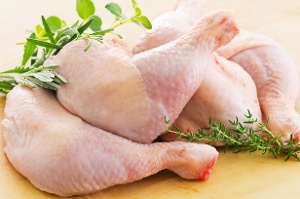 Hot weather in the south continues to affect bird weights. Breast markets have started to strengthen as supply has tightened. Tenders are strengthening and are still in short supply. Whole birds are mostly even. Wings of all sizes are in high demand and supply is very tight. Dark meat is steady on solid demand.
Seafood
Snow crab season is closing mid-August and pricing is firming up. Any remaining inventories of Russian King Crab should be depleted. Operators looking for replacements should look to S. American Santolla Crab and Golden King Crab as a sub. Imported shrimp inventories are at equilibrium.