Alerts & What's Trending
Produce
Growers continue to deal with the aftermath of adverse weather conditions, which have delayed crops, increased quality issues, and decreased overall yields resulting in market volatility across many commodities. The transition from Yuma, AZ, to Salinas, CA, is underway, and markets continue to see volatility due to yields, quality, and past weather issues. March rains and cool weather have delayed the Salinas season's start by approx. 10-14 days. Quality issues out of the desert growing region are expected to increase due to increasing temperatures.
Grains
As energy costs rose, so did soybean oil. At this time, South America is harvesting and the U.S. is planting corn and soybeans. Strong exports helped canola futures climb higher. Palm increased due to low production and rising soybean oil prices.
Dairy
Markets for shell eggs are still declining due to weak demand. Markets for blocks and barrels are down. Butter markets are declining, but the general tone is stable. For the month of April, there will be slight price hikes for Cream and Culture. For the month of April, there will be a small decline in all categories for processed eggs.
Beef
As cautious purchasers continue to buy on a tight budget, the market is at a standstill, which is preventing sharp price hikes. Prices for ribs and strips are largely stable, but purchasers continue to be concerned about availability, which limits business. Tenderloins and briskets are increasing due to seasonal demand, but rounds and chucks remain stable.
Pork
Lack of demand on the domestic and overseas markets is causing the butt market to slow down. Before demand resumes in May, this might linger for another week or two. Due to a lack of demand, rib prices are also heading downward. While bone-in loins are displaying weakening, bone-less loins are still powerful. Bellies keep falling because of excess supply in cold storage.
Poultry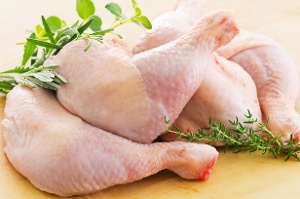 Breasts of all sizes are holding. Breasts were low. Demand for tenders keeps increasing quickly. Supply is becoming more scarce for whole birds and cut ups. This week, the supply and demand of wings were equal. Demand for dark meat continues to be high.
Seafood
In both Blue and Red crab, pasteurized crab meat is becoming more prevalent, and prices will climb over the summer as a result of a shortage of supplies. Up to the start of the new season in May, North Atlantic lobster tails and meat will be available for allocation.