Alerts & What's Trending
Produce
In several of the growing regions, weather problems (lower temperatures and rain) have started to negatively impact yields and quality, which will probably force markets to trend upward over the coming few weeks. Notwithstanding minor quality difficulties brought on by the colder temperatures, supplies of several vegetables grown in the desert producing zone are still steady.
Grains
The soybean oil market increased last week as a result of decreased worldwide stocks being reported, decoupling slightly from the energy market. Palm moved slightly higher and canola was flat on no new information, but demand is starting to rise.
Dairy
Is there a shortage of shell eggs? With the exception of California, markets are up. Markets for cheese are steady because demand is consistent. Butter markets rose, but since there is a plentiful supply, expect falls the next week. March non-market cost variables are causing cream and culture prices to change.
Beef
Packers are spending more on cattle, which results in lower box counts and higher costs. Although Select and No Roll are hard to find, ribs remain consistent. Even after Valentine's Day, tenderloin prices remain on the rise. Shortloins and strips continue to be more popular as packers attempt to increase the price up front. Grinds are tight, and chucks and rounds are trading more strongly.
Pork
The upfront purchases and rising domestic demand caused the butt market to climb upward. The minor decline in rib sales is anticipated to be short-lived because interest has been increasing. This week, loins leveled off as fewer retailers ran advertising. As predicted, the growth of bellies is continuing.
Poultry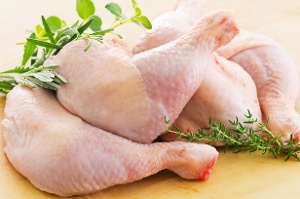 This week, the back of the bird is seeing the highest demand. Large breasts are still in high demand. Demand and supply are balanced by tenders. Both whole and cut up chickens were cheaper this week. As March Madness draws closer, demand for jumbo and mini wings is also continuing to increase. The medium wings remained stable.
Seafood
Lent began on Wednesday and lasts until the first week of April (February 22nd – April 6th). Compared to other seafood species, supplies of shrimp, salmon, tilapia, pangasius, pasteurized crabmeat, mahi, tuna, calamari, cod, and pollock have all stabilized. During Lent, they are the perfect addition to fish dishes.