Alerts & What's Trending
Produce
Overall demand is expected to rise over the next few weeks, which will likely keep markets active due to current weather effects (rain, cooler and hot temperatures) in several growing regions affecting yields. Weather is warming up in the Salinas Valley, which is helping increase the maturity rate of the crops.
Grains
Soybeans oil futures soared, but settled almost flat on the week; prices are still very high and are expected to move higher. The USDA reported soybean oil inventories lower than expected. The good news is that the US got some rains. The bad news is that the canola has moved up as they are facing drought. Europe is facing drought as well.
Dairy
The shell egg market is stable as the market prices are stable; California only experienced a slight decrease. The cheese and butter market is turning bullish, led by European markets. The prices of cream and Culture are increasing slightly in July.
Beef
The tone is weak and there's a lot of pressure for packers to figure out how to balance demand with weekly harvest figures. Ribs and tenders continue to struggle as demand slows down into the tail-end of summer. Strips continues to surprise. More on CAB vs. Choice. Limited supply continues to play a big role here. End cuts, chucks and rounds are starting to weaken as more boxes come on the market.
Pork
Butts decreased this week. Rib complex remains relatively stable but could see an increase in fresh ribs. Loins had slight gains driven by retail demand. Bellies gained with Prop 12 build-up as anticipated but remain flat year-on-year due to heavy cold stock. Hams & Trimmings gained this week.
Poultry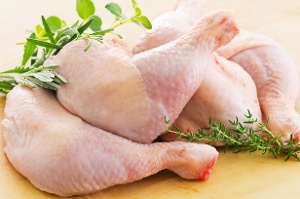 Breast market is mostly balanced. Tenders are stable and still in shortage. Whole birds are balanced. Jumbo and mid-sized wings are increasing while small are balanced with plenty of supply. Dark meat stable on solid demand.
Seafood
The scallop season has had mixed results when it comes to raw material sizes. The supply of smaller sizes is tighter than the supply of larger sizes. The availability of fish in Great Lake is variable as warmer weather pushes fish deeper into the lake. The strong stock in US warehouses has been weakening the market on a number of frozen products.