Alerts & What's Trending
Produce
Overall, markets were somewhat steady as demand was slightly lower than anticipated across most commodities but is expected to increase in three weeks when schools begin. Due to the weather effects (rain, cooler and hot temperatures) in several growing regions affecting yields, we will likely see markets begin to rise. Weather continues to increase in the Salinas Valley, helping increase the maturity rate of the crops.
Grains
The reported reduced soybean oil stocks and the bad crop scores caused soybean oil futures to surge upward once again last week. The price of soybean oil futures has increased by approximately 30% in recent weeks. With the weather being hotter and dryer than usual, canola seed futures climbed higher once more. Markets for palm oil declined as stocks rose.
Dairy
Shell egg markets are stable due to stable demand. California eggs are still marginally declining. Due to rising demand, the markets for cheese and butter are also up. For July, there will be slight price hikes for cream and culture. A drop in processed eggs will be seen in July as avian influenza is not a concern at this time.
Beef
The unpredictability of the market continues to be the balance between weekly harvest and demand. As select grade continues to deteriorate, middle meats like ribs, strips, and tenders are attempting to maintain a balanced price between CAB and Choice. End cuts, chucks, and rounds seem to be in a precarious position as purchasers have met their needs and are now watching to see how the market develops.
Pork
Butts continue to decrease week over week. Although remaining flat, the rib complex is beginning to slope downward. Similar to the ribs, loins had slight decreases but remained flat. Despite growth, the price of bellies, hams, and trimmings continued to decline due to abundant cold storage supply.
Poultry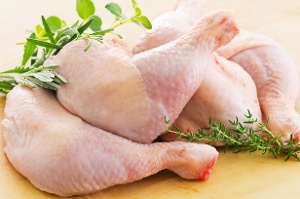 As supply has become more constrained, breast markets have begun to strengthen. Tenders are still scarce and continue to hold. Most whole birds are even. Smaller wings are equally as plentiful as jumbo and medium wings. Due to strong demand, dark meat is stable.
Seafood
The frozen fish business has not experienced any significant occurrences, thus the price of raw materials has remained constant month over month. Frozen food warehousing, which has a significant impact on pricing, is still at capacity and available space is being sold for a premium. Compounding the problem is the soft demand for these goods.