Alerts & What's Trending
Produce
Weather effects in multiple growing regions and civil unrest have caused considerably lower supplies across many commodities. We expect to see these commodities impacted for the next several weeks. Supplies out of the Salinas Valley remain steady on the lettuces, but cauliflower, broccoli, and broccolini supplies are light. Growers are beginning to see some quality issues due to heat. Additionally, growers continue to see other issues such as tip burn, mildew, slightly lower weights, INSV, Sclero, and Fusarium. Huron will be starting over the weekend with Lettuce and leaf items. Early reports are for good quality, but we anticipate lighter weights to continue. Growers are doing their best to mitigate this at the harvesting level.
Grains
Last week's soybean oil futures ended slightly lower, but the market was quite erratic. The South American bean crop is assisting in maintaining lower prices while crude oil was weaker and the harvest was heating up. The canola harvest is almost over, and the overall seed harvest was greater than predicted. Palm slid down a bit.
Dairy
Markets for shell eggs are changing, with some bearish action. Markets for cheese are still declining. For October, there will be slight price hikes for Cream and Culture products nationwide.
Beef
There are still few upper 2/3 grade, light weight ribs and PSMOs available. Except for Select grade, which is seeing minimal market pressure, strips are largely stable. Rounds and Chucks stay in balance. The tendency is toward softer thin meat, particularly on sirloin flap and flank steaks. Grinds continues to struggle with a lack of demand. The price decline accelerates the lower the lean point is.
Pork
Spareribs and back ribs were the only primal markets that saw an increase for the coming week. Bellies, butts, and loins are all descending and will soon start looking for a new surface. Pork sales in October are typically low, and the market is reflecting these patterns.
Poultry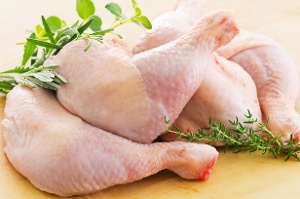 The supply of jumbo and medium-sized birds has increased due to the cooler weather. Breasts are plentiful. The availability of giant and medium size tenders is growing. All sizes of wings are in high demand, and supply is consistent. Demand for dark meat is still very high. Most whole birds are stable.
Seafood
Due to the severe floods in China, the tilapia market is positioned for inventory issues and pricing going into the first quarter of the new calendar year. Expect more usage of shellfish goods like shrimp, crab, and lobster as we approach the holidays, which often see demand rises.