Alerts & What's Trending
Produce
Weather issues (heat and rainfall_ continue to linger across several growing regions, leading to tightened supplies and quality issues, resulting in overall higher markets. Vegetable production out of the Salinas Valley continues to see a decrease in supply due to the virus. Additionally, the commodities still continue to see increased heat-related issues such as lighter weights, fringe burn, tip burn, internal burn, discoloration and lower shelf life.
Grains
All traded commodities made from soybeans traded lower as a result of USDA data showing significantly bigger soybean inventories than anticipated. However, soybean oil stocks have dropped to a 13-year low. Expect a higher trend in this market. Canola markets increased as a result of farmers delaying the sale of seed and lower-than-expected yields. With high stock levels, Palm is significantly lower.
Dairy
High shell egg markets have started to curb demand, prices starting to fall/Butter markets remain high as we move into holiday season/Cheese markets remain mixed as supply for barrels tighten, while block are available.
Beef
With the availability and price disparity being wider for premium grade boxes, the industry is moving in two different directions. Overall, the rib market is still stable, with some inventory providing purchasers time to consider their options for choosing between Choice, Sel, and No Roll. Strips keep getting softer, but there is still a shortage of CAB and higher product. Chucks are still holding the line, and inside round cuts are still steady. 
Pork
Retail provided some support for butts past week, driving the market higher because it is a value pick. Although the market for boneless loins is currently quite static, overseas markets may show some interest in the product. Demand and supply for ribs both stayed the same. Fresh bellies did not experience much activity, but once secondary processing picks up, it may begin to increase. 
Poultry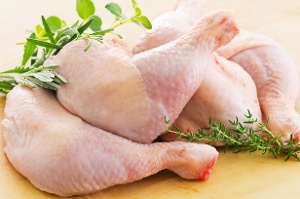 Although there is seasonal wing demand, prices are stable. Prices are down and there are more tenders available. The market for random breasts is declining. Breasts with portion control are available. Prices for boneless thigh meat decreased once more this week. Leg meat without bones is widely accessible. The price of whole birds is rising.
Seafood
National Seafood Month occurs in October! As specialties on the menu to honor the event, now is a fantastic time to advertise shrimp, lobsters, salmon, cod, tuna, catfish, pangasius/swai, mahi-mahi, tilapia, and snow crab.