Alerts & What's Trending
Produce
Favorable weather conditions throughout the growing regions have fueled increased supplies for many commodities helping markets remain steady as we see increased summer demand. Harvest crews continue to wok product in the fields to mitigate quality issues.
Grains
The soybean oil market was very volatile last week, starting the week lower. Canola oil is still finding logistic issues in Canada. Indonesian exports are still not shipping on palm oil.
Dairy
The cheese markets have continued to slowly drop. Tighter cream supplies are forcing butter prices to climb. The egg market continues to remain down.
Beef
Ribs and tenders are finding continued demand. A big question is how long will buyers pay current asking prices for middles with such a large harvest? Look for the steady range on chucks and rounds to hold true.  
Pork
Hams are back up due to exports to Mexico. Bellies are still moving up as demand continues to increase. Loins remain flat while back ribs are slowing down and trending down for next week.
Poultry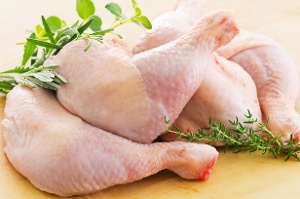 There is continued constraint on whole bird supply. Avian Flu is having its worst outbreak since 2015. 5.5 million Turkeys have been lost so far. The Midwest has been the most affected by the Avian Flu. Portion controlled breasts are still in high demand and difficult to come by. The current market is strong and excess product is nonexistent.
Seafood
Domestic shrimps' season had kicked off in Louisiana. Landing on head-on shrimp for peeling continues to be good. This is signaling softening prices. There has been a record low harvest for Gulf Oysters due to mortality rate and fishing areas being shut down. Frozen tuna imports have started to arrive.