Alerts & What's Trending
Produce
The market is being supplied by Mexico then California, there is a very limited number of Colombian avocados coming in. The supply of avocados will be good, and prices will be a bit weaker as the market looks to find a balance between the supply and demand. 60's are the dominate size followed by 48's and then 70's then 84's then the jumbo sizes.
Grains
As crude oil fell last week, so did soybean oil. Palm oil also decreased last week. Corn, wheat and soybeans were all lower as well. Slight reduction last week for soybean and palm oils. Lack of sunflower oil has caused other varieties to be sought after. Corn oil is extremely hard to find.
Dairy
The block and barrel markets are down for the week due to milk production. The butter market is down as well. The egg markets remain up for the week due to Avian Influenza concerns.
Beef
Reduction in harvest has helped reduce supply levels. Ribs continue sideways. Strips and tenders continue to reflect steady for the weeks ahead.
Pork
Hams are sliding down for the next week. Demand for trimmings has weakened. Fresh bellies moved up slightly. Loins are flat for next week as demand and supplies are unchanged. Butts continue to move upwards with strong demand.
Poultry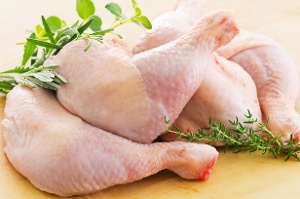 Jumbo wing market has been dropping and supply is available. Tender availability is tightening. Random breast market is very strong. Boneless thigh meat price is stable but supply is tightening.
Seafood
A large part of the Russian crab is unsellable due to the conflict with Ukraine and Russia. A suggested substitute item for Russian snow crab is Canadian snow crab. Domestic scallop season starts April 1st and will begin to replenish inventories.