Alerts & What's Trending
Produce
Vegetable supplies out of the Salinas Valley are considerably limited due to ongoing weather issues. The most affected are the lettuces (green leaf, red leaf, romaine and iceburg). Supplies out of Mexico saw a slight increase but supplies remain limited due to the heavy rainfall, hail and wind damage experienced two weeks ago. Growers continue to see quality issues such as tip burn, fringe burn, pin rot, browning and lighter weights
Grains
The bushels of soybeans produced per acre by the USDA were far lower than anticipated, which caused bean prices to rise. Since fewer beans result in less oil, soybean oil rose. Canola and palm had a plentiful supply and were flat.
Dairy
Demand for cheese in the foodservice and retail sectors is uneven. Cream prices fell, softening the butter market. Despite the fact that there have been no new occurrences of avian influenza, shell egg costs are still very high.
Beef
Last week, the average USDA Choice boxed-beef cutout lost 0.24 percent from the prior week, and it was 12.2 percent lower than a year ago. Beef production declined 0.6 percent from the prior week, but it was 2.2 percent larger than a year ago. Despite rising live and feeder cattle prices, most beef markets, especially the steak cuts, continue to struggle, which suggests that overall beef demand is waning.
Pork
The price of bone-in butts is rising as a result of increased demand from retailers. Boneless butts experienced a small decline, but they will rise throughout the week. As providers exhaust their older stocks, the market is displaying weakness for all rib cuts. Following the brief run from last week, bellies are comparatively flat. Ham prices are still high and are predicted to remain so.
Poultry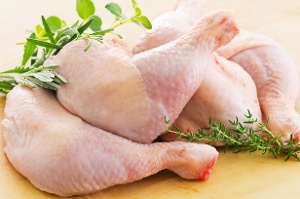 Wing season has arrived, but there are lots of huge wings available now. Prices are falling quickly and there are more tenders available. All breasts are easily accessible, and the cost is going down. Prices for boneless thigh meat decreased once more this week. Compared to dark meat alternatives, boneless leg meat is more widely accessible.
Seafood
National Seafood Month occurs in October! As specialities on the menu to honor the event, now is a fantastic time to advertise shrimp, lobsters, salmon, cod, tuna, catfish,  mahi-mahi, tilapia, and snow crab. Due to conservation concerns, the Alaska Department of Fish and Game has canceled the 2023 fishing season for both Alaska Red King crab and Alaska Snow crab. For the Alaska Red King crab, this is the second season.