Alerts & What's Trending
Produce
As we wait for a significant supply from Honduras, we are
observing a lighter supply in South Florida and firmer markets for green
pepper, zucchini, yellow squash, and cucumbers. The quantity of color peppers
is increasing, and during the following 7 to 10 days, additional pepper should
cross. Due to the frigid climate in the Mexican growing regions, Serrano and
Anaheim pepper prices are still quite high. Due to the chilly temperature,
honeydew and cantaloupe have become rather difficult, but things should get
better over the following 10 to 14 days. Through the weekend and the first few
days of next week, there will be more instances of heavy rain throughout California.
Grains
Lower futures prices for diesel fuel and declining demand
last week caused the soybean oil market to decline. But Argentina's dryness
increased the price of soybeans and soybean meal. With revisions to Indonesian
export regulations, canola is running flat while palm oil has increased. Due to
rising COVID cases, there is concern about Chinese demand.
Dairy
As markets search for a floor, the demand for shell eggs is falling. Markets for cheese are shrinking as demand declines. Butter prices are stable this week, although there are conflicting signs of demand. The cost of Cream and Culture is going down this month while the price of processed eggs is rising as a result of shifting grain markets.
Beef
Tenderloins and ribs are displaying signs of a market slump. While strips are still in high demand, packers are offering prices that reflect the demand. Chucks and rounds are still trading steadily, and supply and demand levels now being balanced. Grinds are consistently full since packers are in good inventory shape and seem to be piquing enough retail interest.
Pork
The fresh pork complex witnessed pressure on bone-in loins while supporting boneless loins in the wake of recent deterioration. After holiday interest peaked, butts and picnics kept continuing through the current price correction. Two-sided trading of bellies while trim pricing is bumped higher.
Poultry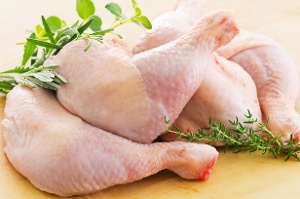 Wing season has arrived as supply has become scarcer. There are tenders available, but the market is becoming more competitive. Although supply is expected to slow down because of the impending short holiday week, breast prices are currently low for the season. Widely accessible for this week will be boneless thigh meat while boneless leg meat is flattening.
Seafood
Alaska declares lower Cod quotas and higher Pollock quotas. White shrimp landings have been higher than anticipated thus far, but brown shrimp landings are still below average. There was a 30% reduction in overall landings for the USA scallop season from this year to last year.