Alerts & What's Trending
Produce
Growth region transitions, rains, and milder temperatures have caused lower yields and will certainly continue for several weeks. Moreover, rising markets will be caused by a combination of lower yields and a rise in overall national demand. For the majority of vegetable exporters, the transfer from Yuma, Arizona, to the Salinas Valley, California, growing zone will take place in 3–4 weeks. The output of most commodities has benefited from the increased daytime and nighttime temperatures in the desert growing zone. Growers continue to observe epidermal peeling and fringe burn as a result of the colder recent weather. Quality is generally good to extremely good.
Grains
Soybean oil had a decline in price and a period of sideways trading due to a lack of recent news in the market. Canola futures prices were higher, and it's said that canola is being used more and more in biodiesel. Palm oil prices rose as a result of increased demand and decreased supply as a result of flooding in Malaysia.
Dairy
This week, the price of shell eggs increased once again; California, however, is down because retail demand is still sluggish. The cheese market is still stable or slightly declining. Butter Markets improved marginally this week, gloomy tones still present.
Beef
Demand is consistent this week. Although there are occasionally inventory pockets, ribs continue to be produced steadily. Tenderloin prices are holding constant, with low supply acting as the main driver. Strips and shortloins are still popular, but packers and purchasers continue to charge different prices for them. Customers are having some trouble purchasing Chucks.
Pork
Butts are once more on the rise as anticipated domestic demand remains high. As the temperature gets warmer, ribs are also rising. The St. Louis-style ribs see the most movement. Moreover, bone-in and boneless loins are in demand due to resurgent retail interest. Bellies' downward spiral is exacerbated by an excess of cold storage.
Poultry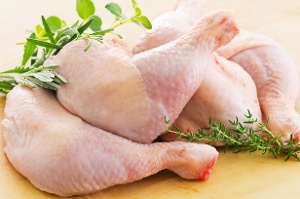 Once again, this week's biggest demand is in the back half of the bird due to strong retail demand. The desire for jumbo breasts is still strong. With the supply getting tighter, tenders are overtaking breast meat. This week, the ratio of whole to sliced birds was largely equal. Due to overstocked processor freezers, jumbo and medium wings are available in surplus.
Seafood
In comparison to last year, supplies of shrimp, salmon, tilapia, pangasius, pasteurized crabmeat, mahi, tuna, calamari, warm water lobster tails, cod, and pollock have all steadied. The majority of the fillet sizes from the Alaskan pollock captures (so far) are 2-4 oz, with a few 4-6 oz.