Alerts & What's Trending
Produce
With Mother's Day one week away and the lower yields caused by weather events, markets will likely remain higher for the next several weeks. Mother's Day typically increases demand by as much as 25% as one of the year's biggest holidays for foodservice. The transition from Yuma, AZ, to the Salinas Valley will finish this week. Markets for the mixed vegetables out of the Salinas Valley growing region saw a slight for most commodities. However, supplies and markets are expected to remain volatile through the month of May due to crops being behind schedule. Growers continue to see quality issues such as yellowing, light fringe burn, and light case weights.
Grains
Markets for soybean oil fell slightly down last week as speculative traders reduced a large portion of their positions. Canola utilization for biofuels has increased to record levels, which lessens the pressure on soybean oil. Soybean and Canola oil pressure caused palm oil to decline, although overall, palm oil reserves are growing on a global scale.
Dairy
Are we at the floor? Shell egg markets are declining once more. Several analysts concur. The cheese market is still weak and declining. With a consistent supply, butter markets stay stable. May is anticipated to see a small decline in the Culture and Cream markets.
Beef
Buyers aren't rushing to place orders, and inventories are still plenty. Although there is little volume of out-front interest, rib and strip continue to trade steadily. Brisket and tenderloin prices are beginning to level out, and some packers are displaying sufficient supplies. The demand for chucks and rounds remains consistent. Although grinds are at best steady, increased demand is anticipated.
Pork
Expect this trend to continue as supplies to tighten up as strong exports and strong domestic demand continue to drive up the beef markets. With the exception of a yo-yo effect, ribs are largely keeping flat due to excessive cold storage. Retail interest in loins is increasing, but not significantly enough to impact the market much. Although lower, belly sizes are predicted to rise.
Poultry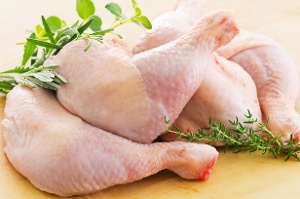 We are currently in the breast season, with portions of breast for Mother's Day and catered parties as well as random breast for Cinco de Mayo. The tenders are still the most popular section of the bird, with prices continuing to rise over the past few months. Whole birds are still in high demand, and there are fewer available. The popularity of wings is waning.
Seafood
As Cinco de Mayo just passed and Mother's Day is next on the calendar, both holidays feature seafood on their menus. The animal that receives the greatest attention on Mother's Day is salmon. The 2023 North Atlantic lobster season officially began on May 1. The Canadian Spring Pack, which runs from May 1 to June 30th, is the first season.