Alerts & What's Trending
Produce
Markets have seen continued volatility as growers deal with cooler weather, rainfall, multiple hurricanes, and growing region transitions which have considerably impacted overall yields through most growing regions. We will likely see markets remain higher for the remainder of the year.
Grains
Despite reports of rising stocks, the soybean oil market rose. We are anticipating the EPA's statement regarding the approval of Canola for use in biodiesel. Canola oil will probably rise while the price of soybean oil may decrease as a result. On account of rising Chinese demand, Palm was up. 
Dairy
Due to the ongoing demand during the holidays, butter markets are rising. Markets for shell eggs are still growing, with the exception of California, where they remain stagnant. Markets for cheese are recovering as demand rises.
Beef
Last week, the average USDA Choice boxed-beef cutout declined 2.3 percent from the previous week, and it was 8.1 percent lower than a year ago. Spot live cattle prices are currently 13.6 percent costlier (y/y), which should equal more expensive beef prices, but that has not occurred yet as beef demand is soft. Wholesale beef prices usually peak after Thanksgiving, but this November price may have already topped.
Pork
Although they continued to go downward this week, butts were mostly flat. Still, ribs are descending, but more slowly than previous week. Supplies clearing out stockpiles is what has caused the drop. Because November is a slow month for pork, loins also continue to trend lower. Compared to prior weeks, bellies were slightly higher. There is a stable market for bacon notwithstanding low demand.
Poultry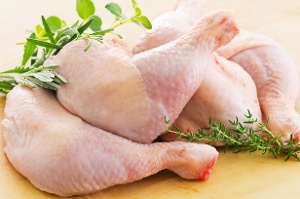 The shell egg markets continue to price near or above record highs as bird flu culls unfortunately have still occurred, most recently in Iowa. The turkey markets remain historically high. The chicken markets continue to weaken, but prices usually bottom during November. The downside risk for chicken prices from here is likely nominal. The egg and liquid egg markets unfortunately still have upside potential and look poised to establish record highs in the nearing weeks. 
Seafood
The season for Gulf oysters began on November 1. Multiple bays are closed in order to safeguard and rebuild oyster reefs. The limited harvesting locations may remain accessible for an undetermined amount of time, but Portico Imperial Oysters will be available starting in January 2023. In Texas and Louisiana, landings of head-on shrimp for peeling have significantly decreased. The landing of Headless Whites 10/15, 16/20, and 21/25 has slowed down. Mahi-mahi sales are declining as consumers get ready for the upcoming 2022–2023 season. Some importers are selling their inventory at a loss.